Ed Fletcher, a former buffalo hunter and scout, from 1875 to 1890, ran the Fletcher and Donley Station, a stage station along the Dodge City-Mobeetie line.1
Edward Houston Fletcher, born August 30, 1848, in Augusta, Kennebec County, Maine, was the oldest child of Joseph Henry and Lydia (Neal) Fletcher. His mother died of typhoid fever on August 20, 1849, just ten days before Ed's first birthday. His father married twice more, giving Ed seven half siblings.2
On January 14, 1864, Edward H. Fletcher enlisted in the 5th Battery, 1st Battalion, Maine Light Artillery, served 18 months in the U. S. Army and was mustered out at Augusta, Maine on July 6, 1865.3
Fletcher left Down East Maine for the West and on June 16, 1873, re-enlisted as a private in Company M of General Nelson A. Miles' 9th U. S. Cavalry, stationed at Ft. McKavett, Texas. He and his future ranching partner, Jimmy Donley, were teamsters with General Miles during the Red River Indian War campaigns in 1873 and 1874.4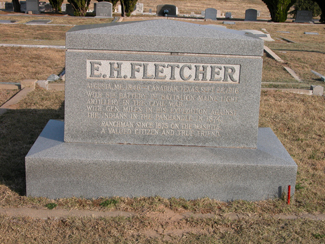 Inscription on E. H. Fletcher's tombstone reads: 5th Battery, 1st Battalion, Maine Light Artillery in the Civil War; with Gen. Miles in his Expedition against the Indians in the Panhandle in 1874.
"… One of the first known men to come to the Panhandle… to hunt and explore was Ed Fletcher, a scout and buffalo hunter. He established a stage coach stand on the Washita, in Hemphill County… called Donley-Fletcher (sic) stand, located about ten miles below the heading of the Washita river…. and about fifteen miles west of the battle with [the Cheyenne] Black Kettle near the Antelope Hills in Oklahoma. This was on the trail used by wagon trains and cattle drives from Austin, Texas, north to cross the Red River into Oklahoma…." 5
The Fletcher & Donley Stage Station was located nineteen miles southeast of Canadian, Texas, where the Government Road from Camp Supply to Fort Elliott crossed the Washita River. Fletcher's partners in the operation were Tobe Robinson, another old buffalo hunter, and Jimmy Donley (head cook). The three bachelors ran the stage station together from 1875 until Robinson dissolved his part of the business ca. 1883 and moved to Tascosa, Texas, where he ran a livery stable. In 1887, Robinson became [the first] sheriff of Oldham County; Fletcher and Donley remained partners until the latter died in 1896.
Ed's own obituary stated, "The affection each of these men felt for the other is evidenced by the fact that each drew a will in favor of the other. Uncle Jimmie [Donley] having passed to his reward a score of years ago brought Mr. Fletcher into the entire possession of what is known as the Fletcher ranch." 6
According to Texas Panhandle historians Mr. & Mrs. R.L. Robertson, the Fletcher and Donley Stage Station was a "log cabin with a sod roof (where springtime flowers grew) and two other buildings. A brush arbor shaded the cabin door and a pump stood nearby… [the station also had] simple accommodations typical of the rest stops on early Texas stagelines." 7
Besides servicing wagon trains, buffalo hide caravans, and cattle herds, the Fletcher & Donley establishment was a mail pickup station.
Ed Fletcher was also noted as one of the early day cattle ranchers of Hemphill County.8 In 1885, he was appointed Notary Public for Hemphill County by Texas Governor John Ireland. 9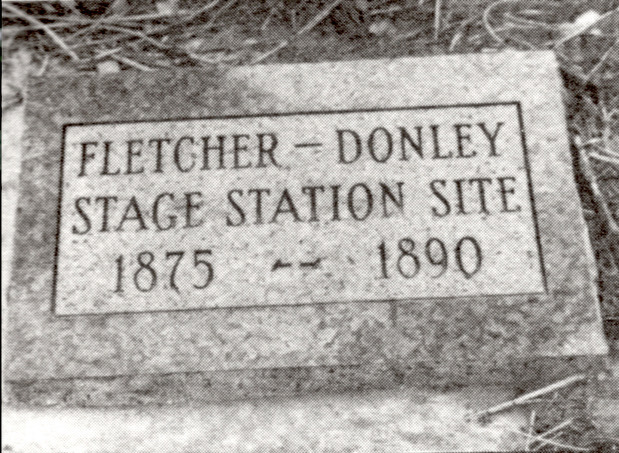 Fletcher had been in ill health for several years and had within the past two years undergone surgery in Kansas City. Until the day before his death, when he was moved to Canadian, Texas, the old buffalo hunter/scout had remained on his ranch. 10
Bachelor Ed Fletcher died of heart failure on Friday, September 22, 1916, at Canadian, Texas. His funeral was held at the Canyon, Texas Presbyterian Church. Pallbearers were his longtime friends: Capt. G.W. Arrington, T.M. Berry, George Gerlach, O.R. McMordie, Tom Riley and Vastine Stickley.11 Fletcher is buried in the Edith Ford Memorial Cemeteries, Canadian, Texas, in Section B&I/Block 2.12 One of his unnamed half-brothers from California was the only family member who attended Ed's funeral services. 13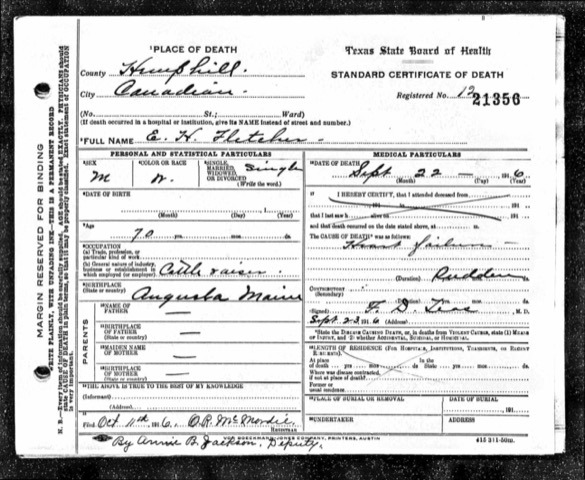 Edward H. Fletcher's 1916 Texas Death Certificate.
Robertson, Pauline Durrett and R. L. Robertson, Panhandle Pilgrimage, Illustrated Tales Tracing History in the Texas Panhandle, Texas Paramount Publishing Company, Amarillo, 1978, pp. 54, 86, 190, 274.
Fletcher, Edward H., ancestry.com.
U.S. Civil War Soldier Records & Profiles, 1861-1865; Report of the Adjutant General of the State of Maine.
Returns from Regular Army Cavalry Regiments 1866-1916, ancestry.com.
– Harrison, Lowell H., "Union Veterans in the Texas Panhandle – 1890," Panhandle-Plains Historical Review XXXVII 1964, Panhandle-Plains Historical Society, Canyon, Texas, pp. 53, 61.
Harris, Mrs. Sallie B. Hide Town in The Texas Panhandle, Pioneer Book Publishers, Hereford, TX, 1968, p. 11.
Tascosa Pioneer, Tascosa, Texas, September 28, 1916. Courtesy the Panhandle-Plains Historical Museum, Canyon, Texas.
Robertson, p. 190.
Ibid.
Ft. Worth Daily Gazette, Ft. Worth, TX, March 28, 1885, p. 2.
Op cit. Canyon Record.
Ibid.
Find-A-Grave, Memorial #59095071, posted Sept. 23, 2010 by Marianne Dial Dedmon.
Op cit, Canyon Record.
Written by Sharon Cunningham.