Every few years the mystery of who was Etta (Ethel) Place comes around to Ann Bassett of Brown's Park, Colorado. The supposition is Ann's presence in Brown's Park, one of the many hideouts for the Wild Bunch, as well as her claims to romantic involvements with members of the outlaw gang. Curiously enough, she never claimed to be romantically involved with Harry Alonzo Longabaugh, alias, The Sundance Kid, or Butch Cassidy.
The following timeline chronicles the events and whereabouts of both women, and should put to rest, once and for all, that Etta (Ethel) Place and Ann Bassett were indeed, two very different women.
May 12,1878 – Ann Bassett is born to Herbert and Elizabeth Bassett in Brown's Hole, Colorado, a small ranching community at the northwest corner of the state, bordering with Utah to the west and Wyoming to the north. She is the third of five children to be raised in the area her mother will rename Brown's Park.
The woman later known as Ethel Place, is most likely born in Texas in 1876. Years later, her given name is translated to "Etta," and first found in print media and law enforcement reports in 1902, following her sojourn with Butch Cassidy and The Sundance Kid to Buenos Aires, Argentina.
Spring of 1886 – Ann and her older sister, Josie, attend a local horse race at Charley Crouse's ranch. Josie develops a crush on the horse rider, known as George Cassidy, who becomes a regular visitor at the Bassett ranch. Within a few years, Cassidy and his outlaw friends find a home and hideout in Brown's Park.
Autumn of 1893 to 1895 – Ann leaves for a year to attend St. Mary's of the Wasatch Academy in Salt Lake City, Utah. In her memoirs, she says the experience left "a deep impression." Ann hosts the 1895 Thanksgiving dinner for all the families in Brown's Park. From her memoirs, Ann says guests included Matt Rash, Isom Dart, Elza Lay, and Harry Roudenbaugh. If this is the Sundance Kid, she obviously didn't know him very well. 
Summer of 1896 – Ann facilitates several romantic meetings for her friend Elza Lay, and Maude Davis of Ashley Valley, Utah. With Ann's help, a local minister is spirited to a quiet meadow location along the Green River to marry the two. Maude would later say that Etta was "the most beautiful woman she had ever known."
January 9, 1897 – The Craig Courier reports a Christmas dinner event hosted by the J.W. Lowell, Jr. family of Lily Park. In attendance are the James McKnight family, (Ann's sister, Josie,) Sam and Elbert Bassett, M.M. Rash and Miss Ann Bassett.
April 1900 – A stranger, James Hicks, arrives in Brown's Park. Posing as a New Mexico rancher, looking to buy land, he becomes a friend to Matthew "Matt Rash, cattle rancher and president of the Brown's Park Cattlemen's Association. Rash, engaged to Ann Bassett, discounts the suspicions Ann has regarding the mysterious Hicks. Two months later, Hicks leaves Brown's Park. A few days later, several ranchers, including Matt Rash, Isom Dart and Ann Bassett, receive handwritten notices to leave Brown's Park in thirty days.
July 8, 1900 – Matt Rash is found dead in his cabin on Cold Spring Mountain. He had been shot three times from the cabin doorway. Three days later, Ann confronts deputy sheriff Charley Sparks, explaining her belief that the
stranger Hicks, is the murderer.
October 3, 1900 – Isom Dart, Bassett family friend, is shot to death by a single bullet to the head. Among the witnesses were George and Sam Bassett, Ann's brothers. The members of Dart's party run to the cabin for cover and the murderer disappears. Investigators retrieve a sworn affidavit  from Routt County, dated September 26, 1900. The complaint is against Isom Dart for horse stealing and signed by "Tom Horn." It is the first piece of evidence leading to the murderer of both Rash and Dart, and proves Ann's allegations. Later, it would be proven that James Hicks was indeed Tom Horn, hired by a Wyoming cattle rancher, Ora Haley, who been moving cattle into the Brown's Park area.
October 12, 1900 – Routt County Probate Court Judge Isaac Voice, closes the Matthew Rash estate, with Ann traveling to Steamboat Springs to receive a monetary settlement.
December 1900 – By year's end, Ann is on a self-imposed mission against the large cattle ranchers in general, and Ora Haley in particular. She would protect, defend, and defy those who attempted to overtake her beloved Brown's Park. Ann roams the area on horseback with her rifle, turning back Haley's Two Bar cattle, at times, by actions that are questioned by law enforcement.
"No other stockmen were responsible for what I did. I had no support but a Winchester rifle and plenty of ammunition. The herds did not go west of the divide but were turned out east of Brown's Park."
That same winter of 1900, the Sundance Kid reunites with Etta in Texas. The two travel as "Mr. and Mrs. Harry A. Place," arriving in Pennsylvania in January of 1901, for a visit with the Longabaugh family.
January and February 1901 – Ann spends time in Vernal, Utah, visiting with family and friends before leaving by stage to Denver, where she will board a train for Texas. The Vernal Express of February 2, 1901, reported: "Miss Ann Bassett left on this mornings stage for Texas. She will visit at Grand Junction and Denver enroute."
On February 1, 1901, "Mr. and Mrs. Harry A. Place" each sign the register at Mrs. Catherine Taylor's boarding house in New York City. Two days later, the couple pose for the infamous photo that will eventually, by 1907, be seen on wanted posters around the world. It will be the first known image of the elusive Etta Place.
It should be quite obvious by these dates that Ann Bassett could not be at two different places half way across the country at the same time.February 9, 1901 – Ann is taken to the hospital in Grand Junction, Colorado with pneumonia. Her trip to Texas is delayed.
On February 20, 1901, Etta, along with Sundance and Butch Cassidy, sail from New York City on the Herminius, for Buenos Aires, Argentina.
Ann Bassett continues her self-imposed vendetta against large cattle owners and Ora Haley for the next several years. In the saddle day after day, she and a friend "…would spot a little bunch of Two Bar cattle down by the river. We forced them into the water. Those that made it to the other side, wandered off into the badlands. In any event, they were lost to the Two Bar, who didn't round up west of the Green. We were especially active during 1902 and 1903, and we cost Ora Haley hundreds of cattle." Creating a division in the Two Bar outfit, Ann courts and eventually marries the manager of the Two Bar, Hi Bernard, in 1904. Ora Haley fights back, taking Ann to court for
cattle rustling not once, but twice. After years of legal battles, she is acquitted both times and goes on to live a long life, dying in 1956 at the age of 78.
As for Etta Place, she remains in Cholila, Argentina with Sundance and Butch until late 1905, with brief visits back to America in the Spring of 1902 and 1904 when she disappears from the historical record.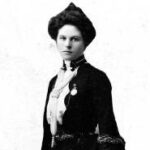 Compiled by Linda Wommack